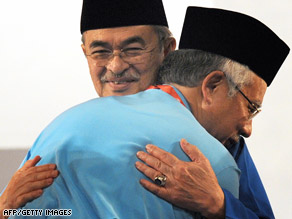 Former Prime Minister Tun Abdullah Ahmad Badawi is confident that Datuk Seri Najib Tun Razak is capable of continuing the legacy of his father, Tun Abdul Razak Hussein, in shaping the future of Malaysia.
Abdullah said since Najib took over the country's leadership from him on April 3, 2009, various transformation had taken place to bring Malaysia to greater heights.
According to Abdullah, the transformation programmes were not mere talks, as some had been implemented while others were being implemented and have begun to show incredible progress.
"I hope Datuk Seri Najib will be able to focus on these matters, so that when the country celebrates its 100 years of formation, Malaysia remains as a country that adheres to the principles of democracy, a country with a formidable identity.
"Malaysia will emerge as a country with highly skilled, creative and innovative workforce in achieving a high income economy...a country which fulfills its vast potential," he said when launching the 'Najib Razak Berjiwa Besar: Empat Dekat Menongkah Arus Kepimpinan dan Politik (1976-Kini) book here today.
Also present were the Prime Minister's wife, Datin Seri Rosmah Mansor, several ministers, deputy ministers and menteri besar.
"I am sure if the late Tun Razak is with us today, he would be very pleased to see the achievement made by his eldest son in filling in the vast gap that he had left," said Abdullah.
Abdullah said Najib had faced many challenges after 40 years in politics and his actions, planning and leadership would determine the course of the nation in approaching 100 years of independence.
At the end of his speech, Abdullah, fondly known as Pak Lah, advised Najib: "Stay true to the principles of your father. You have done well for Malaysia. But always remember that the most important thing a leader leaves behind is character.
"Political stability and economic success are important but remember character - integrity, honesty and empathy. That is how I remember your father and how I want you to be remembered too.
"Take this as an advice from an old man. Be a leader that is loved and respected. Not one that is feared and obeyed. I pray to Allah you will be guided to the right path for the future of our beloved country."
The 467-page book authored by Prof Datuk Seri Dr Khairil Annas Jusoh and Dr Sabri Mohamad Shariff tells about the trials and tribulations faced by Najib in his political career beginning from 1976 until his emergence as a respected leader today.